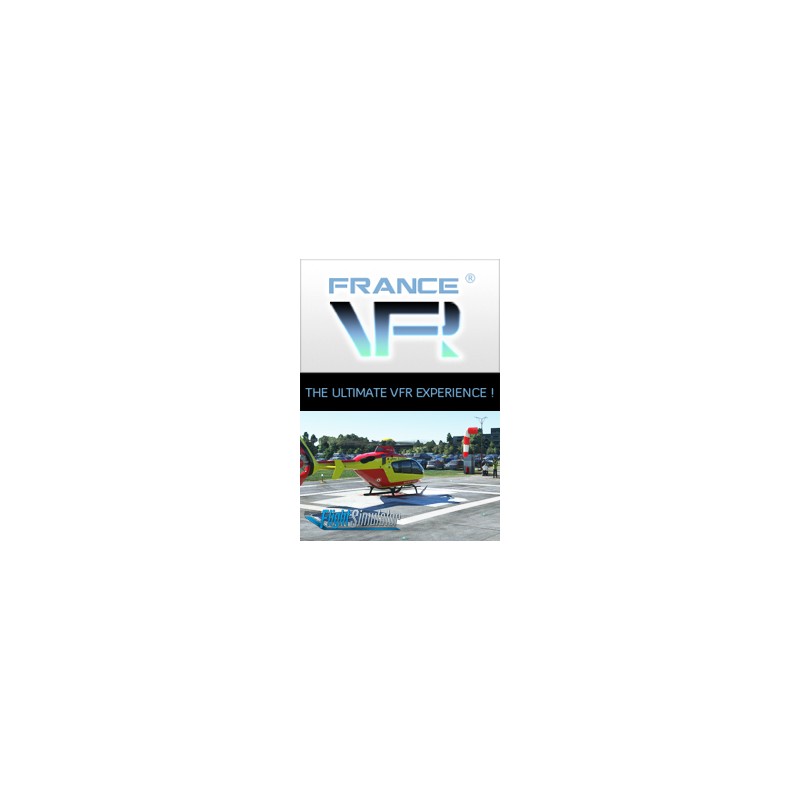  
Paris Heliports & Helipads for MSFS
Paris Heliports & Helipads is a Microsoft® Flight Simulator® add-on which includes in a single pack 28 helicopter platforms spread over the Ile-de-France region (the list and location of each platform are specified in a map accompanying the documentation).
Data sheet
Release date

06/07/2022

Compatibility

MSFS

Size on disk

600 Mo

Number of file(s)

1
Our goal is to offer a unique and varied product comprising a large number of private, administrative, hospital and historical (closed) heliports and helipads in order to allow a maximum of flights and destinations and an original discovery of the region.
All the platforms have been developed in the spirit of the best possible compromise between integration/homogeneity, visual rendering and search for realism while allowing a very attractive price given the large number of platforms making up this pack.
PRODUCT FEATURES
These technical specifications are general to the platforms contained in this pack but may vary slightly from one platform to another depending on its configuration.

- 28 detailed Heliports and Helipads all over the Paris Ile-de-France region.
- Specific photo-realistic 3D buildings.
- Realistic and detailed ground markings and light beacons.
- Numerous animations and details.
- Vegetation reworked on each platform and its surroundings.
- Realistic night lighting.
- Photo-realistic ground texture areas reworked for specific platforms.
- Compatible with all our others product ranges.
- Geo-referenced data for maximum compatibility with future add-ons installed on the same area.
- Development process 100% SDK (System Developement Kit) specifications compliant, ensuring maximum compatibility with new releases.
- SIA – VAC charts provided (if available).
WARNING ! Specific technical limitations make it impossible to use 2 particular platforms as a starting situation (DZ753 and DZ786). It is of course still possible to land and then take off again from these platforms.
LFPI : Paris Issy les Moulineaux, Issy les Moulineaux, VAC LFPI fournie
DZ751 : Paris La Pitié, Hopital Pitie Salpétrière
DZ752 : Paris Lariboisière, Hopital Lariboisière, VAC HPLR fournie
DZ753 : Paris Bercy, Ministère des finances
DZ771 : Lagny sur Marne, Hopital Saint Jean
DZ772: Coulommiers, Grand Hopital de l'Est Francilien
DZ773 : Fontainebleau, Caserne Damesne
DZ774 : Fontenailles, Château de Fontenailles
DZ775 : Melun, Ancien Hopital Marc-Jacquet, VAC HMEL fournie
DZ776 : Nemours, Hopital De Nemours
DZ777 : Provins, Centre Hospitalier Léon Binet
DZ782 : Guyancourt, Challenger Bouygues
DZ783 : Mantes-la-Jolie, Centre Hospitalier François Quesnay
DZ784 : Poissy, Centre Hospitalier Poissy Saint Germain, VAC HPOS fournie
DZ785: Versailles, Centre Hospitalier André Mignot, VAC HVSA fournie
DZ786 : Le Chesnay, Hopital de Parly 2
DZ912 : Corbeil Essones, Hopital Gilles de Corbeil
DZ914 : Longjumeau, Centre Hospitalier de Longjumeau
DZ921 : Clamart, Hopital d'Instruction des Armées Percy
DZ922 : Garches, Hopital Raymond-Poincaré
DZ923 : Le Plessis Robinson, Centre Hospitalier Marie Lannelongue, VAC HLEP fournie
DZ924 : Clichy, Hopital Beaujon
DZ931 : Aulnay sous Bois, Centre Hospitalier Robert Ballanger, VAC HAUL fournie
DZ941 : Creteil, Hopital Henri Mondor, VAC HCRT fournie
DZ951 : Pontoise, Centre Hospitalier René Dubos, VAC HPSE fournie
DZ952 : Saint Ouen l'Aumone, Heli industries
DZ953 : Eaubonne, Hopital Simone Veil
DZ954 : Gonnesse, Centre Hospitalier de Gonesse