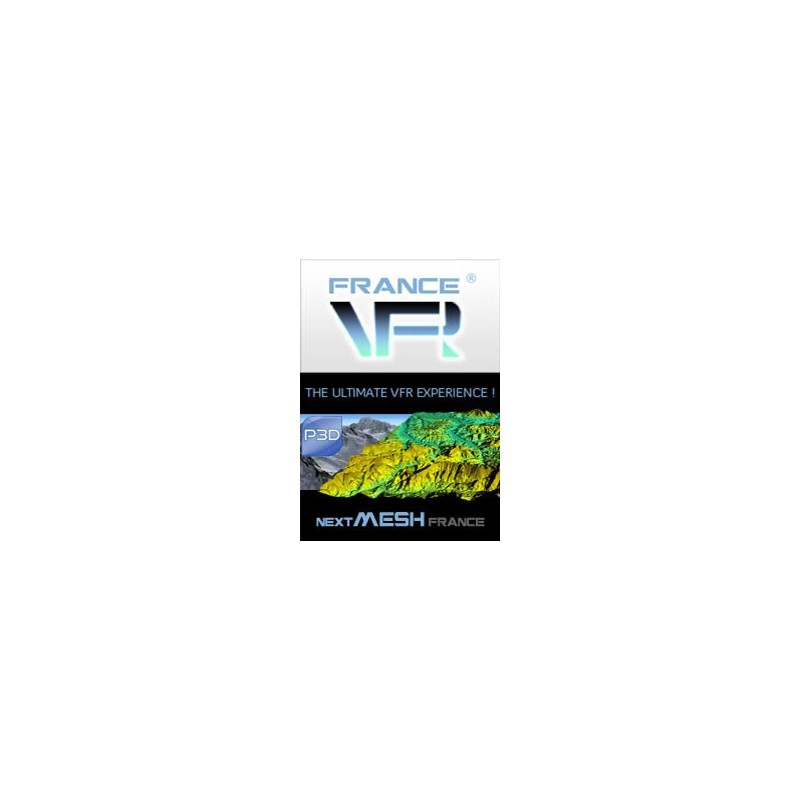  
NEXTMESH FRANCE 4,75 MÈTRES POUR P3DV4
NEXTMesh FRANCE for P3D models the relief of the entire French territory in an unprecedented resolution of 4.75 meters (LOD13) as well as that of the DOM (Overseas Departments).

This version is not an update of the old MESH France product from the BDALTI® of IGN but a new product developed from data from the NEXTMap® Europe program from InterMap Technologies® (USA). If you have the product Mesh France FSX 19/38 meters. Any previous mesh should be uninstalled before proceeding with the installation of NEXTMesh France for P3D. The product integrates as standard the correction of platform effects on more than 400 airports and aerodromes (slopes) thus allowing a progressive smoothing of the terrain near the platforms.
Data sheet
Release date

18/1/2019

Compatibility

P3Dv4

Size on disk

5.3 Go

Number of file(s)

3
Characteristics
Precision relief 4.75 meters LOD13 over the entire covered area

Vertical accuracy less than 15 cm

Fixed platform effects on more than 400 airports (slopes)

Optimal compression rate for a better quality / performance compromise

Splitting into homogeneous files of 0.5 degree x 1 degree optimizing loading times in memory and facilitating geographic identification of files

Extension of the mesh beyond the French borders (Belgium, Germany, Switzerland, Italy) Full compatibility with the photo-realistic scenes of the France VFR® brand

Possibility of coupling the mesh with other generic meshes of lower resolution
UPDATE OFFER UNTIL 06/30/2019
Owners of the "Nextmesh France 4.75 for FSX" version (ref: MFIX) can obtain a free update upon prior request to support'@'francevfr.com with proof.
Information