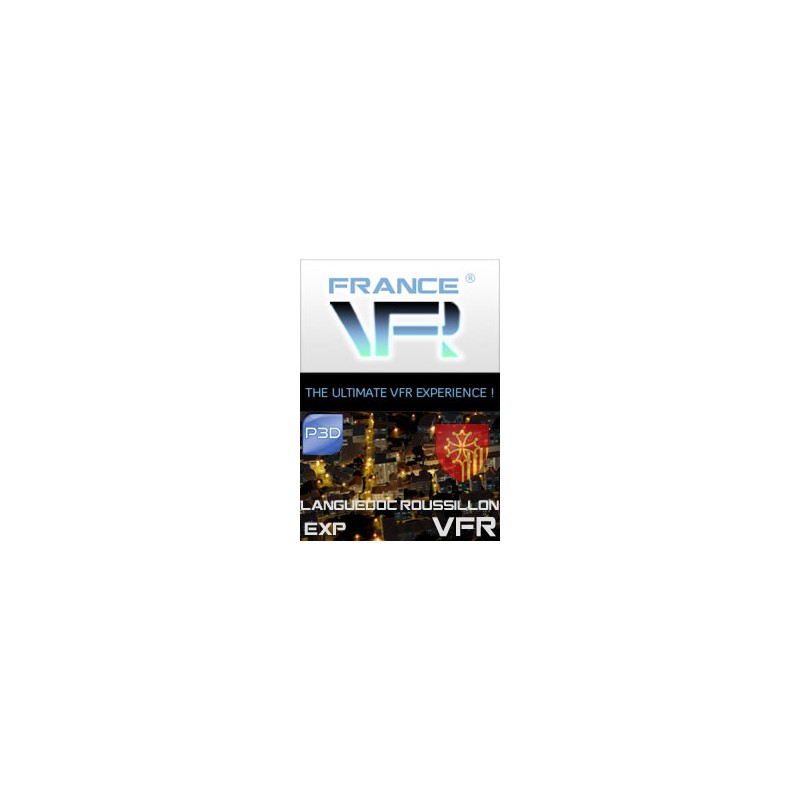  
EXTENSION PACK FOR LANGUEDOC-ROUSSILLON VFR P3D
Scenic complement to our "VFR Regional" scene representing the Languedoc-Roussillon region. This Extension Packoffers night coverage over the entire area, textures 0.8 to 1.2 m / pixel, 3D light sources with halo and / or dynamic lighting over the entire scene, high resolution processing (<0.5m / pixel) of the main ULM bases and / or remarkable sites, a complement of autogen vegetation in all urban, peri-urban areas, villages, housing estates, etc. The "Extension Pack" products benefit from the contributions of 3DAutomation® technology developed by France VFR. This technology enables the most dense and realistic environments ever designed for FSX / P3D to be implemented. It does not claim to represent reality precisely but to give it the most realistic possible interpretation on a very large scale. It may eventually evolve toadapt to needs and new data available. Seabed modeled over the entire scene.
Data sheet
Release date

29/09/2018

Compatibility

P3Dv4

Size on disk

1.4 Go

Number of file(s)

1
Characteristics
Night ground textures from 0.8 to 1.20 meters / pixel resolution from IGN aerial photos reworked for a visual rendering on the entire scene

3D light sources with halo over the entire scene

Addition of dynamic lighting: stadiums, town centers, castles, churches, etc. (depending on simulator functions)

Autogen complementary vegetation in all urban areas, peri-urban areas, villages, housing estates, etc.

Extremely dense and realistic vegetation cover optimized thanks to a rendering module driven by artificial intelligence (AI).

Obstacles and VFR landmarks modeled on the entire scene including the official SIA database (antennas, pylons, water towers, wind turbines, various constructions).

Geo-referenced alignment ensuring maximum compatibility with future add-ons installed in the same area.

Development process 100% compliant with SDK (System Development Kit) specifications, ensuring maximum compatibility when new versions arrive.