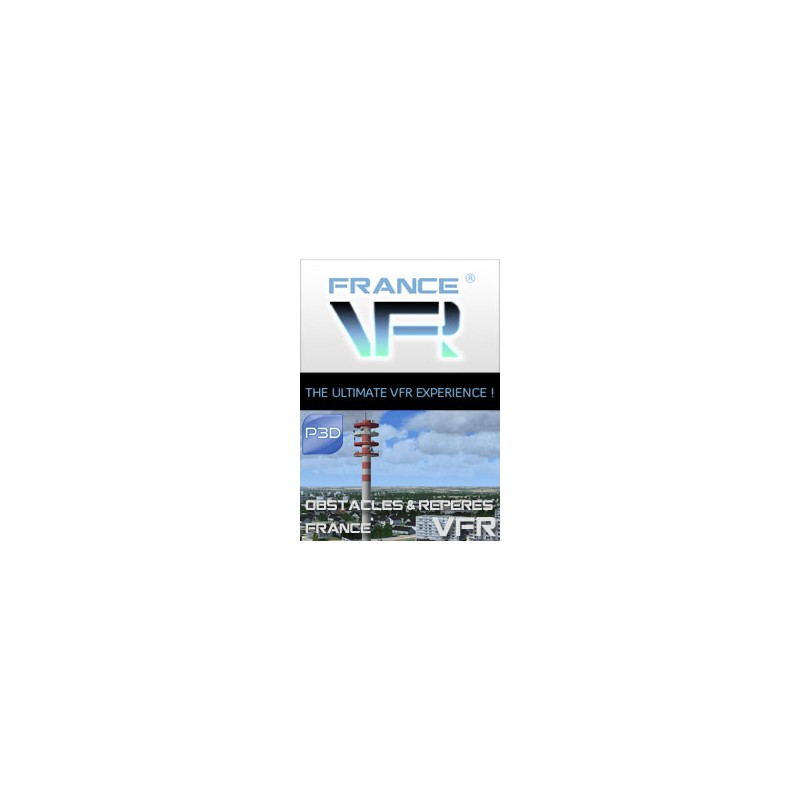  
Obstacles and VFR Landmarks V3 - FRANCE for P3D
"Obstacles et benchmarks VFR - FRANCE" is a scenic complement for Lockheed Martin® Prepar3D® V4 which covers the whole of France and allows the addition of more than 500,000 objects to the decor, including almost all the obstacles officially listed by the SIA (Aeronautical Information Service), and which have been qualified and georeferenced.
Data sheet
Release date

08/01/2019

Compatibility

P3Dv4

Size on disk

420 Mo

Number of file(s)

1
Characteristics
More than 4,000 specific obstacles listed by the SIA including:
1,000 radio and television broadcasting antennas, telecommunications towers

1,000 microwave towers and telecom relay

200 air-cooling towers, industrial chimneys and flares

1,500 water towers

130 marine lighthouses

churches

large bridges and viaducts

entire fleet of nuclear and thermal power plants
Detail of all the obstacles and markers included
350,000 electricity pylons with beaconing in the vicinity of airports, representing all the High Voltage and Very High Voltage overhead networks

3,000 HV transformer stations

7,500 wind turbines

65,000 churches, cathedrals, basilicas, chapels and religious buildings

55,000 agricultural greenhouses

23,000 castles

11,000 water towers

5,000 agricultural storage silos

12,000 industrial tanks

14,000 antennas

3,500 ski lift / cable car pylons
"Obstacles et markers VFR - FRANCE" is compatible with all types of complements, landclass or photo. It must be positioned in the scene library above the "photo" and "landclass" scenes and below the local airport scenes or the photo scenes from the VFR Regional de France VFR® series.
"VFR - FRANCE obstacles and benchmarks" being built on geo-referenced data, we recommend the joint use of a high definition mesh such as France VFR® NEXTMesh France.
This product is also a perfect complement to our TRUElandscape - FRANCE landclass.