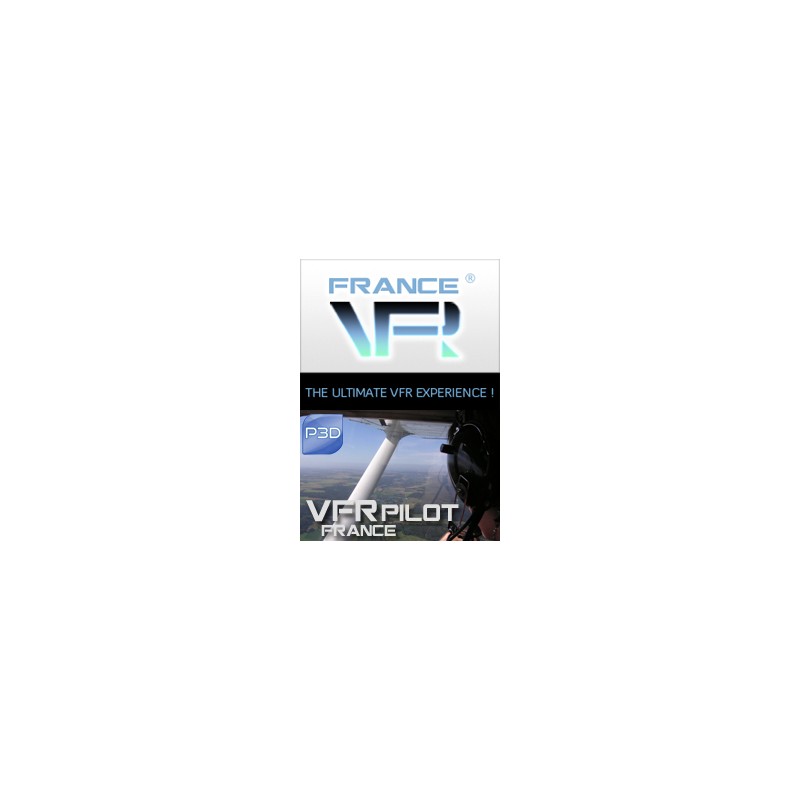  
VFR PILOT - FRANCE FOR P3D
"VFR Pilot - FRANCE" is a scenic complement for Lockheed Martin® Prepar3D® which deals with the entire French territory by installing a new decor completely redefined and optimized to allow the practice of VFR flight in the best conditions. This product is made up of three add-ons, each a reference in their respective field:

The ambition of this product is to offer a simple, light and compact package which is a true reference in terms of VFR flight for simulated air navigation. The VFR pilot and a fortiori the simer will thus be able to work or reproduce his flights in a suitable environment incorporating the visual elements essential for VFR flight, in addition to the entire radionav infrastructure. It thus becomes possible to prepare navigations with relevant turning points, reporting points etc. and to carry them out in homogeneous and immersive conditions throughout the territory.

"VFR Pilot - FRANCE" is "THE" essential basic product for approaching VFR flight simulation in France.
TRUElandscape for the redefinition of the nature of soils and the precision of the hydrographic network.

NEXTMesh for very high definition relief (DOM included).

Obstacles and VFR Landmarks for SIA obstacles and thousands of VFR landmarks (DOM included).
Data sheet
Release date

09/04/2019

Compatibility

P3Dv5-v4

Size on disk

9.5 Go

Number of file(s)

5
Characteristics
TRUElandscape modifies and adds:
The redefinition of all the coasts and the hydrographic network.

The reassignment of all field classes covering France and Corsica.

The redefinition of urban, peri-urban, industrial and commercial areas, ports, etc.

Redefining the plots of deciduous, mixed coniferous, young, etc. forests.

The qualification of coastlines, sandy beaches, dunes, rocks, moors, etc.

TRUElandscape maintains rail and road networks without altering them.

TRUElandscape preserves the seasonal and night textures.
NEXTMesh FRANCE:
Precision relief 4.75 meters LOD13 over the entire covered area

Vertical accuracy less than 15 cm

Fixed platform effects on more than 400 airports (slopes)

Optimal compression rate for a better quality / performance compromise

Splitting into homogeneous files of 0.5 degree x 1 degree optimizing loading times in memory and facilitating geographic identification of files

Extension of the mesh beyond the French borders (Belgium, Germany, Switzerland, Italy)

Possibility of coupling the mesh with other generic meshes of lower resolution
Obstacles and benchmarks VFR provides more than 4,000 specific obstacles listed by the SIA including:
1,000 radio and television broadcasting antennas, telecommunications towers

1,000 microwave towers and telecom relay

200 air-cooling towers, industrial chimneys and flares

1,500 water towers

130 marine lighthouses

churches

fleet of nuclear and thermal power plants
And not specifically listed by the SIA:
350,000 electricity pylons with beaconing in the vicinity of airports, representing all the High Voltage and Very High Voltage overhead networks

3,000 HV transformer stations

7,500 wind turbines

65,000 churches, cathedrals, basilicas, chapels and religious buildings

55,000 agricultural greenhouses

23,000 castles

11,000 water towers

5,000 agricultural storage silos

12,000 industrial tanks

14,000 antennas

3,500 ski lift / cable car pylons